Cara menggunakan CBox
Tuesday, December 20, 2011 • Tuesday, December 20, 2011 •
0 comments
Alamak, cuti dah nak habes tidak!!!! Ini maknanya nxt year will be PMR.

*jarangla update

Nasib baik semua homework almost nak siap (: Syukur..
Actually, aku nak cerita pasal isu semasa sikit

*cehh bunyi macam serious

Sekarangkan ramai Bloggers yang dah tukar Shoutbox mereka kepada Cbox

*hasil daripada blogwalkings

Almaklumlah Shoutboxkan dah tukar jadi PREMIUM tahun depan. Aku dah prepare awal awal

*Baru je buat 15 minit yang lepas

. Sekarang aku nak kongsikan cara menggunakan CBox (:
1. Search kat Google atau tekan sini CBox.
2. Pilih Sign Up untuk mendaftar.
3. Isi butiran berikut :-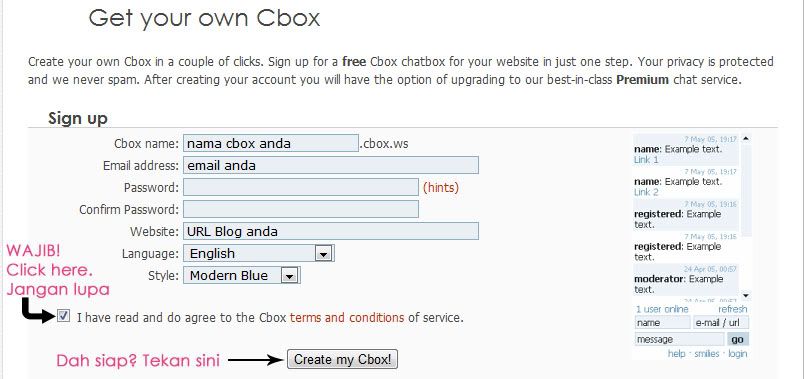 4. Untuk masuk ke CBox, masukkan login name yang korang daftar tadi dan masuk dalam CBox.
5. Klik Publish & copy code korang.
6. Pergi ke blog anda.
7. Klik Design --> Add a Gadget --> HTML/JavaScript
8. Pastekan code anda.
9. Tekan Save.
Sekarang CBox korang sedia digunakan!!
Maklumat Tambahan
Kalau nak tukar warna atau ubah Font, korang boleh pegi dekat
Look&Feel.
Kalau nak tukar smiley pulak, pergi dekat
Options.
Sekian daripada aku! Thankyou..
DISCLAIMER

Hello and Welcome my cutie zombie(s). You have entered to my PRECIOUS blog. No harsh word, be enjoy (: Hopes you like my blog, remember, AWESOME STORY MEANS AWESOME LIFE. Believes in MIRACLES.



Profile





TAGBOARD




LIKE! LIKE! LIKE!


TALKING HERE!
♦ URL blog wajib ade not email
♦ Harsh words & Anon not allowed
♦ Tinggalkan jejak anda di sini
♦ I'll follow you back.
All rights reserved ® Nurul Nadiah 2012