Magic Giveaway by Dina, Hazimah, Sabrina
Wednesday, December 07, 2011 • Wednesday, December 07, 2011 •
1 comments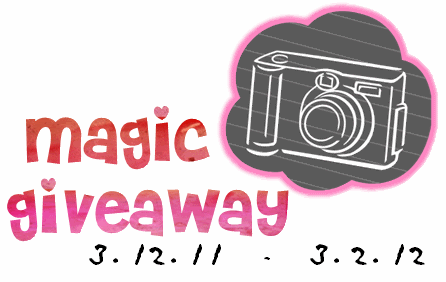 SYARAT-SYARAT PENYERTAAN:>
Mesti ade belog. Terbuka kepada lelaki dan perempuan. Terbuka kepada semua orang seperti berwarganegara india,cina,melayu,sabah,sarawak dan lain-lain.

<-- done

Buat entry pasal GA. Ikut suka korang nak buat entry panjang or pendek. Letak banner contest. Linkkan terus ke blog Dina atau Hazimah atau Sabrina.

<-- done

Wajib tag 3 orang bloggers.Pastikan mereka tahu.

<-- done

Kalau dah buat entry copy link entry dan pastekan di ruangan comment Dina atau Hazimah atau Sabrina.

<-- done

GA akan terbatal jika kurang dari 20 orang join semasa seminggu GA dijalankan.

<-- done
Hadiah dia akan diberitahu sehari sebelum GA tamat.
All done , now time to TAG-it (:
DISCLAIMER

Hello and Welcome my cutie zombie(s). You have entered to my PRECIOUS blog. No harsh word, be enjoy (: Hopes you like my blog, remember, AWESOME STORY MEANS AWESOME LIFE. Believes in MIRACLES.



Profile





TAGBOARD




LIKE! LIKE! LIKE!


TALKING HERE!
♦ URL blog wajib ade not email
♦ Harsh words & Anon not allowed
♦ Tinggalkan jejak anda di sini
♦ I'll follow you back.
All rights reserved ® Nurul Nadiah 2012